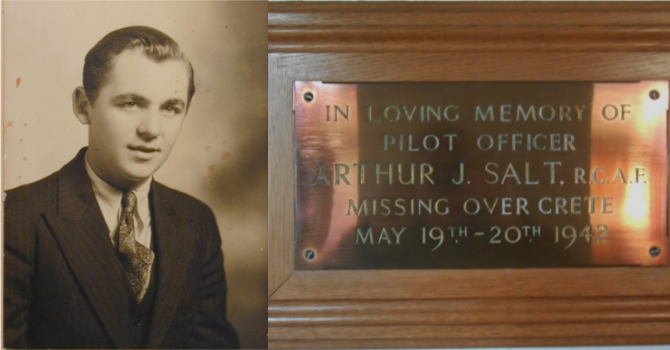 This article was written by Jock Munro and posted by Beth Vondette
Those who have visited English parish churches will have seen many memorial plaques. St. Philip's has only one. Many parishioners may have seen the name Arthur Salt on the south wall of the church and perhaps wondered who he was.
Arthur Salt was the first St. Philip's parishioner to be killed in World War 2. The plaque tells us that Pilot Officer Arthur J. Salt, RCAF was "missing over Crete on May 19-20, 1942". Thanks to the internet (e.g., Library and Archives Canada) it is possible to discover much about Arthur Salt's life.
The large plaque at the Memorial Organ lists Arthur as one of the 163 St. Philip's parishioners who served in Canada's "fighting forces" in World War 2. Seventy-three served in the air force, 47 in the army, 29 in the navy, and 14 in the merchant marine. Eight of these lost their lives in the war, higher than the average death rate for all Canadian armed forces in the war. Seven of the eight deaths were among those who served in the Royal Canadian Air Force, the most deadly service in World War 2. The other was in the Canadian Merchant Marine – that casualty, Walter Shaw, was Chief Engineer on the Canadian Pacific liner Empress of Canada when she was torpedoed off the Liberian coast in 1943. Walter Shaw's peacetime job on this ship became a wartime job when the ship was assigned to military service as a troop ship.
All the other deaths were parishioners who enlisted from their civilian lives. Arthur Douglas John Salt was born in Abbotsford in 1917 to Arthur Cowper Salt and Lucille Gwendolyn Arthur, Sr. worked as a customs agent. Arthur's father had been born in England and his mother in Wales. Arthur, Sr. and Lucile had a second son, Lionel Herbert Salt, in 1920.
In 1924 the Salt family moved to 3530 West 30th Avenue in Vancouver (their house is still there). Arthur attended Lord Kitchener, Point Grey Junior High, and Magee High, where he graduated with Junior Matriculation in 1936. From March, 1936 Arthur worked for the Canadian Bank of Commerce as a teller at their Victory Square branch. In June, 1940 Arthur signed an Attestation Paper, enlisting in the Royal Canadian Air Force. It's not clear why he chose the air force but the almost one-half the St. Philip's men who signed up did the same. Also, air forces would have been much in the news since the Battle of Britain's official dates are July-October, 1940.
Arthur said in his Attestation Paper that he had no experience of flight and no special qualifications that would be useful to the RCAF but that he wanted to be a pilot. He was "extensively" engaged in nine sports and had had the highest Mainland Cricket League batting average in 1936-37. Arthur's medical examination showed him to be in good health and measured his height at 5 feet, 10 ½ inches and his weight at 162 pounds. Arthur reported that he smoked 15 cigarettes per day and drank the occasional beer.
Apparently three letters of reference were required as part of the enlistment process. One of Arthur's referees was the Rev. George Biddle, Rector of St. Philip's from June, 1933 to June, 1940 (Arthur was an AYPA member). Mr. Biddle wrote a glowing review: "one of my finest young leaders"; "a splendid young man with real capabilities for leadership and control"; "gifted with originality and understanding and never relinquishes a job he starts before it is completed". Strong letters were also written by Arthur's employer and by a Dunbar lawyer, Dudley Durrant.
On September 11, 1940, his enlistment application having been accepted, Arthur formally signed up for the duration of the war and agreed to serve anywhere. His initial rank was Aircraftman, 2nd Class, equivalent to army Private. At various stages in his training, Arthur advanced to Leading Aircraftman and then Flight Sergeant finally becoming commissioned officer as a Pilot Officer in July, 1941. It is difficult to interpret the abbreviations in RCAF personnel forms but Arthur's major training sites in Canada were Sydney, NS, London, ON, and Summerside, PEI. Together these locations gave him 180 hours of in-flight training, all in single engine aircraft.
The reports from his training were mostly glowing with one striking exception.
Initial training: 5/137 in class "Good pilot type. Steady, quiet, persistent, and dependable type of airman. Takes great interest in his work and will be a credit to the service." (February, 1941, Toronto)
Ground training: 6/29 in class "An above average pilot in my opinion. Does an excellent job of flying when relaxed and at ease. Aerobatics a little slow but coming along nicely." "Conduct, ability, and deportment well above average of class. Officer material. Good organizer and natural leader. (April, 1941, London)
Flying training: "A very mediocre pilot. His turns are sloppy and he pays little attention to air speeds." Ground training: "Above average student, keen and intelligent. Conduct and deportment good. General remarks: "A very eager type, tries hard and is an alert flyer. Is inclined to be quiet. Very punctual." (July, 1941, Summerside)
The details of Arthur's service record between completion of his training at Summerside in July, 1941 and his death 10 months later are sketchy. Thousands of RCAF personnel served in British (RAF) units and Arthur was one of these. While in England Arthur received further training in flying bombers. His two action postings were to 44 Squadron (December, 1941 to January, 1942), a bomber unit stationed in Lincolnshire that operated in western Europe and 37 Squadron (from March 8, 1942), also a bomber unit based at Shallufa, Egypt near Suez that operated in North Africa and the Eastern Mediterranean.
Most of 37 Squadron's operations in 1942 were in the Western Desert in Egypt and Libya in support of ground operations there. But Arthur's final flight was to attack the aerodrome at Heraklion, Greece. Since the Battle of Crete had ended almost one year earlier, why was such an attack undertaken? According to Wikipedia, "During the late spring of 1942, the airfields of Crete gained increased strategic importance by becoming the main transit base for Luftwaffe to supply logistic support to Rommel's Afrika Korps in their advance on the Nile Delta. Furthermore, Luftwaffe aircraft based on Crete operated photo-reconnaissance, bombing and convoy attack missions covering the south-east Mediterranean region."
Arthur was the pilot of AD 626, a Wellington Mark 1C aircraft with a crew of six, five of whom were RCAF personnel. (Aviation Archaeology)
They took off from Shallufa at 2310 on May 19th to attack the airfield at Heraklion and were never heard from again. Arthur's Wing Commander wrote after his death, "During his tour of duty he proved himself a most reliable operational captain and his loss is deeply felt by us all".
Although there were no remains for a grave, Arthur is one of thousands remembered at Alamein Memorial in Egypt, 118 are from 37 Squadron. (https://www.ww2cemeteries.com/egy-alamein-memorial.html)
So Arthur's life ended at 24 years of age. How he would have lived had he survived the war is unknown but perhaps there's a clue in the life of his younger brother, Lionel, also an RCAF officer who served as an RAF bomber navigator. Lionel was a UBC graduate who worked for 40 years at Vancouver newspapers. He died in 2016 and his family wrote in his obituary "He was an avid sports fan, a voracious reader, and a devotee of jazz. By nature pessimistic, stubborn, and reserved, he had a dry sense of humour, rankled at bad grammar and did not suffer fools gladly." (Vancouver Sun Obituary for Lionel, Arthur's younger brother) This sounds a little like what Arthur's air force trainers wrote about him in the year after he joined up.